LAKE TAHOE
Well before I reached Lake Tahoe itself, I was already invigorated by the grandeur of the nature in the area and, once I'd opened my window, the fresh rush of pine. Fog threaded its ways through spears of pine on the slopes, creating an exquisitely poetic effect.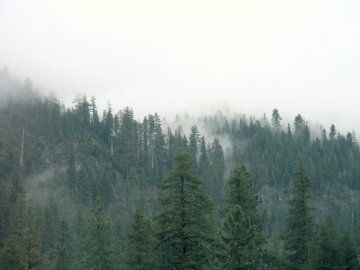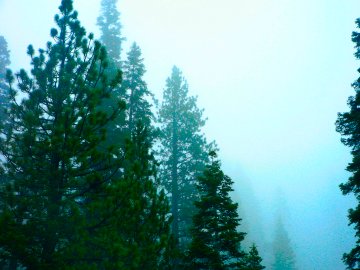 By the time I drove into Tahoe itself, though, it was getting dark.
What struck me most about Tahoe was the assortment of old cabins and motels, with signs that are probably fifty or more years old. Together with the glorious but simple nature all around, these created a sense of age and comfort that made the whole effect comfortably magical.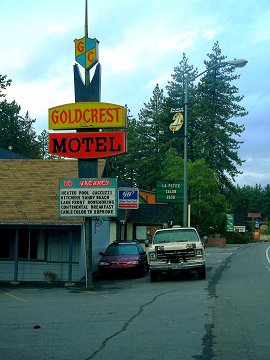 Having checked a few places, I ended up getting a motel just as the fog I'd found so pretty exploded nto rain. The owner told me about a good restaurant in what looked like a log cabin, right near the Biltmore Casino (where I could have gotten a free breakfast the next morning, were I a hash-brown fan.) The Soule Domain was indeed excellent and very agreeable. Exactly the splurge I'd intended to allow myself (along with Jambalaya) on a largely budget trip.
The next morning, I walked down to the slightly flooded beach and took a bnnch of pictures
then started a long slow drive south, snapping shots and looking around until Emerald Bay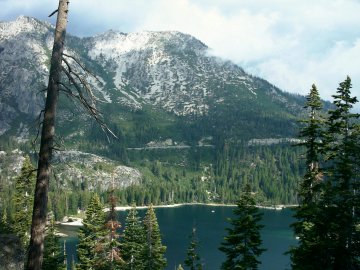 where I lingered a bit longer. A really spectacular view, though I again got caught in the rain just as I was shooting my last pictures. Stopped at a nice coffeehouse for breakfast and e-mail, then continued on through South Lake Tahoe and on beyond, back west, stopping only at Placerville.
QUICK ACCESS MENU
LAST UPDATED: AUGUST 2003