Eureka, Arcata and Trinidad
There are apparently a few other places I might have stopped en route to the very northern (but not northern most) city of Eureka. But I was already almost at my mid-point and the lovely waitress in Garberville, having lived there, highly recommended the old town. So this was my next stop.
I can't comment on the main part of the town, though I suspect it remains unexciting. But the rather miniscule old town of Eureka is indeed worth a visit. Not just for the Victorian homes (one of which, a former mansion, is spectacular)
but for a number of cafes and restaurants and, mosts urprisingly, an excellent used bookstore. Where I found more books on 18th century France than I'd ever seen in any Los Angeles bookstore (used or new). If I'd had more time to stop, Eureka is definitely one place where I would have lingered.
I also spotted a bar with a singularly ironic name: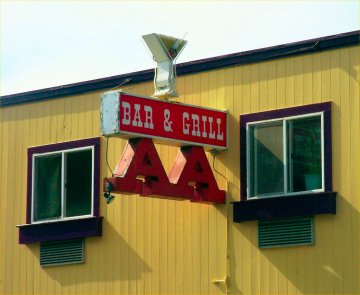 TRINIDAD AND ARCATA (ABOVE EUREKA)
I'd already planned to go east from Eureka along the 299, but first I wanted to see these two small towns. A cheerful woman at the Eureka Tourist Information office had been very enthusiastic about Trinidad, which turned out to be a cozy little fishing town with a few fun but not exciting restaurants. A distinct change from Eureka and (as it turned out) Arcata, but not a place I felt drawn to.
Arcata's main claim to fame is apparently Humboldt College, but the young would-be hippies crowding the town square were what struck me most. The woman in Eureka had told me that the whole square is set up for WiFi, but it turned out my laptop battery was already dead, so I never got to try this. Some people were dancing/sparring the Brazilian martial art Capoeira. Towards the center, but a lot of young long-haired people in ponchos just sat around looking like they'd landed in the wrong decade.
I videoed the square, despite a half-hearted "no videos please!" from one of the drinkers outside a corner bar, then had an excellent meal at Jambalaya, which despite its name serves a nice range of creative dishes.
Then I set out, after nine, for a long drive along 299. finally stopping towards midnight at Weaverville.
QUICK ACCESS MENU
LAST UPDATED: AUGUST 2003