LEGGETT and GARBERVILLE
Having driven on and inland, I thought I might stay in Leggett, at the start of redwood country. But a short drive through the town showed me there was almost nothing there. I drove over to the Chandelier Tree where, even at 8 pm, a woman stood in a gatehouse to collect $3 for the right to drive through a redwood, and quickly figured out the next place I wanted to be was Garberville, about 20 miles north.
My old guidebook identified Garberville as the pot capitol of California. Given what I've since learned about the rest of the North, I'd say it has competition in this area. Bu it's certainly filled with pudgy, graying longhairs. The one shop that overtly sells hemp offers clothing made of that plant. Or at least that's all it advertises.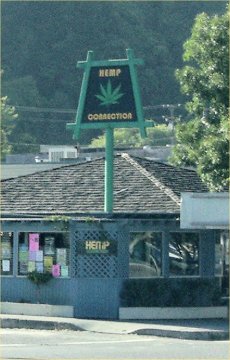 I found a cheap motel, chatted with a ludicrously beautiful 19-year-old blonde waitress who'd moved from Eureka to live with her boyfriend and ended up having some cheap and surprisingly tasty pasta (carbonara) at a local place. Where I started talking to some genial Asians from Australia, down from British Columbia were they were visiting relatives. Turned out we were all in the same motel (where the manager had to come kick out one of the local semi-arthritic hippies who'd planned to bed down with his solidly built paramour – despite not being registered.)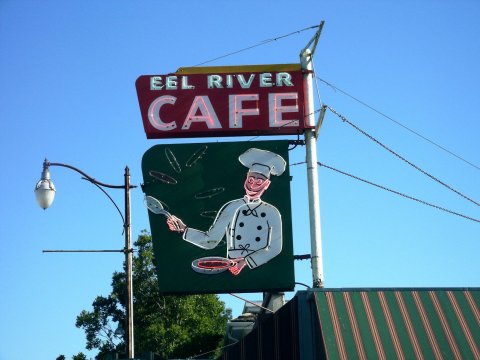 The next day, I had a mess of blueberry pancakes at the Eel River Cafe and then went on to explore the redwoods.
QUICK ACCESS MENU
LAST UPDATED: AUGUST 2003