PLACERVILLE and SAN FRANCISCO
Placerville was the only town I stopped at before Sacramento, and probably the only one worth the detour. Once known as 'Hangtown', it still has a bar called 'Hangman's Tree' (on the site of the stump of same) but also a number of very cozy cafes and a few other likely looking shops. Like Weaverville, very much worth a visit if you're on that road.
| | |
| --- | --- |
| | |
Having made a disastrous detour to Napa (see above), I barely had time to turn around and get to Palo Alto at 5:30, where I was to meet my French nephew (almost my contemporary) and see his little twins (barely born when last we met).A very nice family interlude, the twins being suitably adorable (and trilingual: English, French and their mother's Chinese.) My nephew and I talked of family and other matters. Checking my e-mail, I discovered I was invited to a dinner party in San Francisco the next night, at a house with a spectacular view of the bay. So, having spent the night, I took a slow casual drive up the Camino Real and found myself back in San Francisco.
SAN FRANCISCO (II)
I'd yet to have a chance to really explore San Francisco on my own, so this time I wandered the new shops on the Embarcadero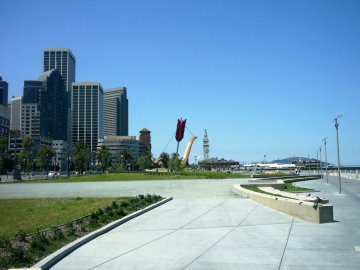 where there was a big food market going on. Having had a bout of insomnia, I sat back for a short nap on a bench, only to have a French woman warn me. "You're going to get sunburned on your neck!" Turned my bill cap around so that my neck was protected, napped a bit more, then shot a few pix and went on to North Beach, where I grabbed a cappuccino and (in neighboring Chinatown) a melon cake. Went on to Fillmore, where I sat in the Grove Café for a few hours while I wrote and had a cheese plate.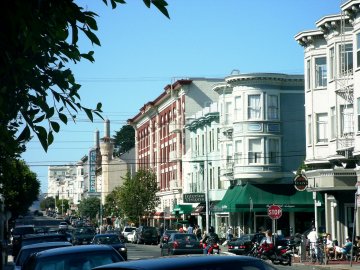 Thne I drove through Haight-Ashbery and up a steep hill to have dinner with my friends and end my visit north with a spectacular view of the city.

QUICK ACCESS MENU
LAST UPDATED: AUGUST 2003