FAMILY: The Richcreek Family
---
2000: I finally VISITED Richcreek home areas in Indiana and Ohio. Click HERE for more info.
---
The Richcreeks were originally German ("Reichenbach").The first ancestors seem to have arrived in Virginia in the 1700's, but accurate information is hard to come by. For instance, the following - from "The Descendants of David Richcreek and Mary Penn" - seems only partially accurate:

Biographical memoirs of Indianapolis and Marion County, Indiana,Goodspeed Brothers Publishers-- Chicago, Ill.-- I893. Gives a biography of the Richcreek family as coming from England and settling in America,near Philadelphia, Pa., about I760. Moving later into the Shenandoah Valley of Virginia.

Strangely, there are a lot of Reichenbachs all over France, which suggests that the name may have been Alsation (since Alsace went back and forth between Germany and France).
The greatest concentration of Richcreeks is now in the Midwest - Coshocton County, Ohio, and Swayzee and Windfall, Indiana are two key locations. What appears to be a separate branch is concentrated around York, Pennsylvania. However, relatives of those groups currently live in numerous other states, including Arizona, Florida, California, Michigan, Minnesota, Missouri, New York and Tennesee. Richcreeks have also been 'spotted' in Canada and Nova Scotia.

Unlike other German descendants who have long multiplied beyond any connection with their original family group, most American Richcreeks seem to have some connection to a few families in Ohio and Indiana. A note in the genealogy for David Richcreek says:

At the time of the compiling of this history in I954, about two thirds of the known Richcreeks' are descendants of George Washington and Elizabeth Mansfield Richcreek.
---
There are at least two Richcreek genealogies available in certain major libraries (neither was published in the usual sense, so private distribution tends to be by photocopy). The original, on the descendants of David Richcreek and Mary Penn (who is identified as a descendant of William Penn, though this appears to be unfounded), was hand-typed by my grandfather Walter Bernard Richcreek in 1954 and distributed to a number of libraries and relatives. Several people have updated, expanded and corrected this.
Probably the most accurate and up-to-date version is by Marguerite Richcreek Wallace: "The Richcreek Line - descendants of Philip Jacob Richcreek".A copy is in the Mormon library. I've also located a tantalizing reference to a Richcreek family document in NEWFOUNDLAND (!).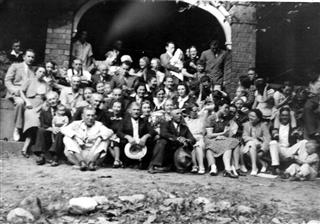 I'm guessing these photos are from the early 40's. Some of the Richcreek brothers are in the front. Any additional ID's are welcome.

A bartender in the town told me they were taken at the old high school, which since has been torn down. Linda Cottingham Heater, whose grandparents owned (Grace & Rome) McDowell's Greenhouse in Windfall, passed this story on (through her daughter) about the greenhouse and a Richcreek:
Every spring a woman named Richcreek (who she remembers being a large well dressed lady from Kokomo) would send a check for them to buy and plant new flowers in the family urn and then take it to the cemetery for the summer. They did this for a lot of people. Mom remembers that the Richcreeks had a large monument, compared to most. Then in the summer when this lady (who was her grandparents' age so she would have been born in the 1870s-1880s) would come over to the cemetery she always stopped by the greenhouse to thank them for taking care of the urn. In the fall they brought urns inside and stored them until the spring planting. Mom said it was nice that this lady always stopped by the greenhouse. This lady was later buried there at the Windfall Cemetery."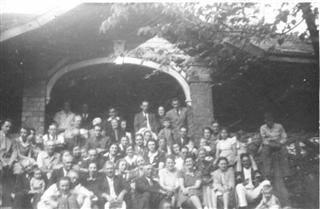 ---
There was a Richcreek State Bank in Indianapolis around mid-century.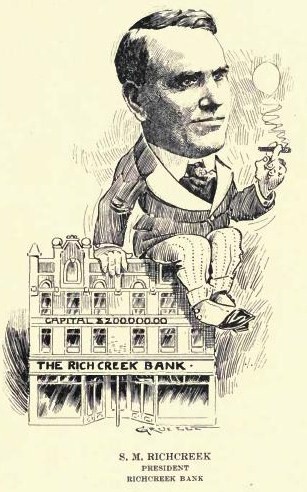 Family lore has it that it closed sometime after Seth M. Richcreek, the family member who ran it, fell in love with a young employee and left with her and a lot of money, though contemporary accounts make it seem very much as if the Richcreeks had their own (albeit minor league) Bernie Madoff:
Seth M. Richcreek appeared in Indianapolis in 1892, and opened a law office, but soon devoted his attention to buying street assessment liens. He had left his country home when a boy, and had just reappeared after an absence of 25 years, no one knew where. He made a large amount of money in a short time by bringing suits on assessment liens and forcing payment of attorneys' fees on compromise settlement. He then developed into a sort of broker, and in March, 1904, started the Richcreek Bank. In 1907 he dazzled the community by announcements of a new bank building. He leased the Phoenix block, at Market and Delaware streets, for 99 years, agreeing to pay $5,000 a year rental for two years, $6,500 for one years, and an addition of $150 a year for the next 96 years; also to erect a block costing not less than $100,000, covering this property and 40 feet adjoining on Delaware street that already belonged to him. He contracted for the steel work for the building, to cost $32,000.
Meanwhile nobody ever knew what was in his bank. The law of 1905 governing private banks required reports but did not authorize examination. Under it he reported on May 23, 1907, assets of $657,315.37 in addition to $300,000 of deposits. By September 30 he got his assets down to $512,459.59, and at that time claimed deposits of $374,069.20. In the spring of 1907 the legislature amended the law by a provision for examination of private banks, but by the terms of the act it did not go into effect until December 1, 1907. About a month before that date an application was made by Indianapolis creditors for a receiver for the bank, which was defeated. On November 25 another application was made by the Ford Motor Co., of Detroit which had sent $7,200 in drafts to the bank for collection, and had received no remittance although the drafts were collected. This was held off till November 30, on account of Richcreek's absence from the city, and then the Central Trust Co. was made receiver. On December 17 this receivership was suspended by the appointment of H. J. Milligan as receiver in an involontary bankruptcy proceeding. The estate paid out about 15 cents. Richcreek never came back, and opinions varied widely as to whether he took much money with him. There have been reports that he was in South Africa, but there are knowing ones who insist he is in this country. Wherever he may be, the sympathy of Indianapolis goes out to that place.
Jacob Piatt Dunn, Greater Indianapolis, Chicago:the Lewis Publishing Company, 1910, Vol I:354
This single event had numerous repurcussions on various family members, including my grandfather's sister Cora who received a "proper"education from her uncle only to have him take her trust fund along with everybody else's money. Nonetheless, she apparently bore him no ill will. (The descendants of his deserted family have proved less forgiving.)

Such misbehavior must have especially distressed his fellow Richcreeks, who on the whole seem to have exemplified 'typical' Midwestern values: religion, family, modesty and duty.

This may explain why Richcreeks often end up in uniforms. Most often military, but also civil: a Web search found one Richcreek fire chief and one Richcreek fire ranger.

The family's military history started early. Philip Jacob Richcreek, the probable ancestor of most Richcreeks, fought at Yorktown. A John Richcreek (of Dover Township, York County, Pa.) fought with the German Regiment, also during the Revolutionary War. George Washington RICHCREEK ran away to fight in the Civil War. His son, Walter Bernard RICHCREEK (my own grandfather), ran away to serve in the Navy. Karl Richcreek (of Tennessee) was a Navy fighter pilot in the Gulf War. His father Eugene fought with the Marines in both World War II and Korea. George Franklin Richcreek was with the Coast Guard in the South Pacific during World War II, while his uncle Walter served in near Greenland (and later met Walter Bernard in a military hospital!!).
---
Though many of the original Richcreeks were farmers, a number subsequently became entrepreneurs, starting businesses which prospered. (Two - Eugene and George Franklin - credit their military experience with giving them their real start in life.)
One genetic quirk is striking - at least three male Richcreeks have been born with six fingers (double thumbs).
I know of no very famous (or infamous) Richcreeks (though two have been named in "Who's Who in Industry and Business"). Would be delighted to hear of any. Given the paucity of Richcreek info, I'd welcome any further info people can e-mail me.
---
A Coshocton County Page does exist, if you have or would like to find information on the many Richcreeks from there.

The following Richcreek researchers have approved posting their names and other information:
| | | | |
| --- | --- | --- | --- |
| NAME | E-MAIL | MAILING ADDRESS | TELEPHONE(S) |
| Steven L. Richcreek | srichcreek@cfl.rr.com | | |
| George Franklin Richcreek | georita@redwing.net | 15251 Old Children's Home Road Welch, MN 55066 | home 612-258-4502 work 1-800-328-1488 |
| Kenneth W. Richcreek, Sr. | creeksr@kc.rr.com | 1063 South Shore Drive Lake Waukomis, MO 64151-1441 (Kansas City) | home (phone and Fax (on PC)) (816) 741-1344 (816) 741-3466 |
---
GENEALOGICAL REFERENCES:
"John was the son of Joshua Hatcher and Jane Richcreek, of the Quaker Hatchers"
Mention of Philip Richcreek's pension (1818)
---
Dedicated to the memory of Corinne Richcreek Kelly (1930-1994)
---
LAST UPDATED: April 2009