---
JIM'S ROOTS (THE WILHOITES): Culpeper, Madison, Wolftown and Charlottesville, Virginia
As it happens, our branch of the Wilhoites had stayed in Virginia far longer than most I know of, and so I had more reason than some Wilhoite cousins to want to visit the areas near Culpeper and Madison where, with other German immigrants, the Wilheits had founded the second Germanna Colony, then moved on to neighboring towns.
For reference, here is our Wilhoite line, which remained in Virginia until 1897, when Daisy Wilhoite eloped from her girl's seminary with William Harry Bradley of Savannah, Georgia and moved to New York:
Michael Wilheit - born Schwaigern, Germany, died Virginia
John Wilhoit - born Schwaigern, Germany, died Culpeper, Virginia
Daniel Wilhoit - born, died Culpeper County
David Wilhoit - born, died Madison City
Benjamin Gaar Wilhoit, born Madison City, died Madison City
Jeremiah MacRae Wilhoit - born Wolftown, died Charlottesville
Marguerite (Daisy Belle) Moore Wilhoit - born Charlottesville, died NYC
Maxine Larue Bradley - born, died NYC
Patricia Richcreek Harrison - born NYC, died Poughkeepsie, NY
James Bretton Chevallier - born NYC
A genealogical visit to Virginia is a very different thing than one to Indiana or Ohio (where I'd visited small obscure towns for the Richcreek line). Already, driving down from Georgetown (which I loved), I found myself in the heart of history. Virginia highways cross numerous 'runs' (shallow streams), but when you cross one called 'Bull Run', it's a powerful moment. Other memorable names follow: Manassas, Fredericksberg. Only they're not just names - you're there, at or near some of the most well-known places in American history.
Another aspect of being on location in places you've only read about is that the role of geography becomes more apparent. Notably, I learned that Wilhoite genealogists should be very conscious of the Rapidan River. Not only were the original colonies built within loops of this river, but Wolftown, where many Wilhoites ended up, is further down the same river. (I'd actually thought at one point that my ancestors might have found the site simply by going downstream, but my friend in the area said that the Rapidan has never been navigable.)
I had had visions of finding family headstones (as I had in Indiana and Ohio), but as it happens some of my earliest ancestors were buried on family property which for various reasons is no longer easily accessible.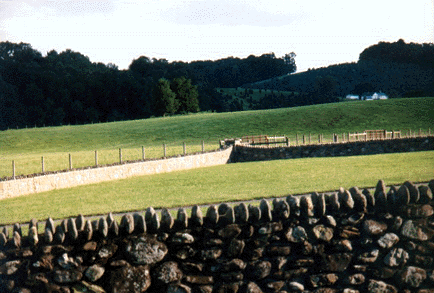 Walls of the Hebron cemetary
I DID visit the Hebron cemetary - whose name will be familiar to any dedicated Wilhoite genealogists - and found almost all the related families (Blankenbakers, Weavers, Walkers, Blankenbakers, Gaars, Garrs, Blankenbakers, MacRaes, Blankenbakers...), but no Wilhoites (apparently too Fanny Wilhoite, my great-great-grandmother, was buried near Washington DC.)

What follows describes about two days in the area. But I could readily envision spending two weeks there, staying in different bed and breakfasts, following up Wilhoite leads, visiting the area's wineries and Civil War battlefields and simply enjoying the area, which is beautiful.