---
SMALL CITIES: Lincoln, Omaha, Des Moines, Iowa City
My late mother loved urbanism, and several of my friends have worked in the field. It's not an interest I ever shared, but having seen how well many cities are being revitalized, I've at least got increased appreciation for it as a consumer.
I had no specific interest in most of the cities en route to Chicago, and stopped to see them with no great expectations. But every one had something attractive about it, and usually that was developed from an existing area or structure.
LINCOLN
Lincoln was the one city a number of people had recommended. I got in about eight and found the renovated Haymarket area right away. It's centered around the train station where farmers used to come to market, and many old loading docks are now the terraces of restaurants. Even on a slightly rainy night, every place was packed. Some of the restaurants were a little commercial for my tastes, but overall this was a fun, dynamic area.
As often happens, I couldn't make up my mind where to eat, so I ended up stopping in a large lively coffee bar which had seats set up along the loading dock outside facing the street, like seats in a Paris cafe, for people watching. They had two PC's set up in an inner room - wireless keyboards were available at the counter. So, instead of eating, I ended up checking my e-mail.
Typical...
It was already 9:30, but I still had some energy. So I pushed on to Omaha.
OMAHA
I almost HATED Omaha. Having arrived about 11, and driven through a pretty vigorous looking business section, I grabbed the first cheap motel I saw. Sure, it looked a LITTLE seedy... In fact, the hallway carpet was incredibly stained, my room stank of cat and neither of the two TV's in it (which looked stolen) worked. And the few residents I spotted looked... a little thin. It didn't help either that Tremaine, the broad-shouldered Black night clerk, ostentatiously wore a holster.
On the other hand, my Celica was parked directly in front of Tremaine's office. Where I was pretty sure it was safe.
Though I was tired by now, I asked Tremaine if there was anything to do. "Omaha's a funny city," he said. "It doesn't get going until about 11, and everything closes up by one." He then directed me to the area up by 10th street. Driving through empty if modern streets I suddenly came upon another renovated industrial area, with people walking all around and even a few horse-drawn carriages (which are becoming a staple of many of these renewed areas.)
I pretty quickly found a large 'bistro' which had a long lively bar off to the side of a bustling dining room. The menu, which managed to be eclectic without being pretentious, was one of the first interesting ones I've seen in a long while, anywhere (no mahi-mahi, no pesto). It was one of several places I was to find in small cities which I wished existed in L.A.
Not that the experience was free of the old Midwest cliches - the two drunken salesmen next to me would have been right at home in a Fifties Omaha.
Having made it safely out of my motel, I drove over the next morning to see if an arts fair in one of the building plazas was underway. It wasn't, but looked promising. Sorry to miss it, I moved on.
DES MOINES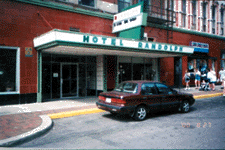 Upon driving into downtown Des Moines just to take a look, I was delighted to find a farmer's market going on. Behind one of the stalls was a sign saying "Des Moines Arts District". All kinds of food and gifts, and a neat little train for kids. A very nice state house too (you become kind of a connoisseur of state houses when you drive cross-country.)
IOWA CITY
I REALLY thought I'd skip this one, but... As was true with a number of cities, the fun part in Iowa City was around the university: a sprawling pedestrian area with lots of amusements for kids, some adorable gift shops, an old cinema, and a neat coffee bar. The latter had one of those concepts I'd love to see in L.A. Several coffee filter holders are set up in a stand near the register. When you order, they put your cup under one of the holders, put in a filter and fill it with whatever coffee you request. Then they simply pour water until your (excellent) coffee is ready. Simple and efficient, makes a great cup of coffee.
MOVING ON
I was to see other small cities, and even to get a little blase about neat, renovated areas. But seeing these heartland cities, all in a row, so well developed made me optimistic about the success of urban renewal overall.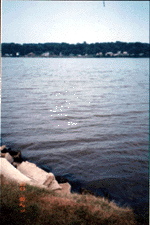 Otherwise, the last big moment before I reached Chicago was my first sight of the Mississippi, in the small town of Leclaire. It's not what you'd call impressive at this point: a very broad expanse of very muddy water, with one lonely steamboat parked nearby. But hey, it was the MISSISSIPPI. Which I knew I'd see again, in rather different dress, down by New Orleans.
---
continue to Chicago
LAST UPDATED: March 2003